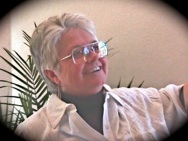 My Personal Statement
As a student in the 60's, my early years and college days were heavily influenced by the revolution in thought taking place in psychology and on the streets. It was an intoxicating time (not just with drugs and such) of possibilities and insight. Now I realize that being as fully immersed as I was in that time informed, delighted, and underpinned my entire life. That sense of introspection and of the sureness of youth coming to know that relationships that broke down all barriers were, indeed, the answer to the world's ills, if only we could spread the word. That awareness has never left me.
My whole life has been spent in pursuing direct experience of my "inner" life and attempting to reconcile that inner life with the "outer" drama. I became sure early on that the direct experience of life, explored deeply enough, would bring us to something fully trustworthy and would guide us to wholeness. This awareness has come through deep suffering, deep joy, and deep exploration. I believe and experience this more fully now than ever before. There truly is a "blueprint" within us that guides us to the greatest fulfillment of our potential — if we will listen and learn to read the blueprint. I have been through trauma and abuse within my own life. I have worked with a number of therapists and teachers to explore and heal that early conditioning. What I have learned and studied is what I share with my clients.
Now is the best time of my life. What remains of it is dedicated to my writings, my individual work with people, my partner, and my own creative endeavors — not necessarily in that order. I can think of nothing better or more worthwhile than to give to others a sense of the great mystery of life's unfolding, knowing that there is really something at the very heart of our life that is so incredibly mysterious, yet, so simple and trustworthy that all of our efforts to help it unfold in our own and each other's lives is a wonderful and wondrous thing. I am committed to help everyone who comes to me gain that knowledge.
I am a certified "Cyber Facilitator" (through the Online Therapy Institute). This means that if coming into my office is a challenge for you, I can work with you in a variety of ways, including phone, email and video.
 The following is my more "formal" credentials:
I literally have worked with thousands of people. This has been mostly in individual work, small groups, 7 years of teaching in a University (JFK University in California), many classes outside of the college setting, seminars and conferences, both in the United States and in Canada.
Maintained a meditation practice consistently over the past 40 years.  This practice is of a synthesis of my experience with different traditions that I have studied. This is mostly from mystical traditions cross-culturally.
One of the things I am most proud of is that I was part of a group of pioneers who began the Transpersonal Studies programs in the 80's. I taught for 7 years at JFK University in California, where we developed one of the very first Transpersonal Counseling degrees in the world. Today, most universities have some combination of transpersonal/spiritual/Jungian studies. We helped to launch the movement.
Presented at many conferences such as the Assoc. of Transpersonal Psychology, the International Assoc. of Transpersonal Psychology, and the Assoc. of Humanistic Psychology.
In addition to publishing a number of articles, I am currently working on eBooks that will be available through this site and Kindle books.
Presented workshops for many years at such growth centers as Esalen in Big Sur, California, other universities, and in a number of people's homes.
Supervised interns for twelve years and have done consultation for many years. Part of the JFK work was to help run a counseling center in which we applied our ideas.
Acted as group facilitator for staffs of various organizations including The Center for Attitudinal Healing (at the mother branch in Sausalito, Ca.), the Marin Aids Project, and Spirit Rock Meditation Center (Woodacre, Ca.
Have worked for the past fifteen years with people online in many different countries in a counseling/therapeutic relationship.  This experience has given me the ability to talk with people online in a consultation/teaching/counseling capacity. With the coming of new laws, I am able to do therapy with people in Colorado, and consultation with people from all over the world.
Published articles in a number of journals and books (see various other sections.)
Recorded tapes from various conferences.
Had the extreme good fortune of working with many fine teachers over the past 40 years. Whether from a Buddhist, Christian or shamanistic viewpoint, they have all taught there is but One Teacher within us. These teachers/therapists included Thomas Weide, PhD., Frances Vaughn, PhD., Ram Dass, Angeles Arrien, PhD., Anne & Jim Armstrong, Rina Sircar (Buddhist nun), and many, many other truly fine and gifted teachers. Included in this list of teachers are a number of truly profound drug experiences (acid, MDMA and psilocybin) that have also taught me deeply.
Specific Credentials:
These can be checked out if you wish.  Simply call the suggested numbers, or look them up yourself.
Licensed Marriage and Family in the State of Colorado, #426., for past 15 years.  Call the State of Colorado licensing board at  (303) 894-7766  (303) 894-7766. Or visit it online at Colorado.gov
Licensed Marriage and Family in the State of California for 25 years.  (#8894 — inactive since moving to Colorado) Call the California State Board of Behavioral Sciences for verification at  (916) 445-4933  (916) 445-4933.
Member:  American Association of Marriage and Family Therapists.  You can go to my website there by clicking here: http://www.therapistlocator.net/— then put my name in the search capability.
Member:  Association of Transpersonal Psychology since its beginning in 1969.  For a complete listing of articles in their journal, go to:  www.atpweb.org
Member and Diplomate:  American Psychotherapy Association.  I am a Diplomate in this organization which means that I have been doing psychotherapy for a long while with a good deal of respect and acknowledgement from my peers and colleagues over the years.
Member: Compassionate Choices Society, a dignity-in-dying organization.
Master's Degree, California State University at Los Angeles, 1971
Extensive post-graduate work in East/West Psychological Studies at the California Institute of Integral Studies, San Francisco.  Since this time, I have been writing for specific audiences.
Became a Certified Professional Coach through the Grow Institute in San Diego.  I see this as an adjunct to my psychotherapy practice.